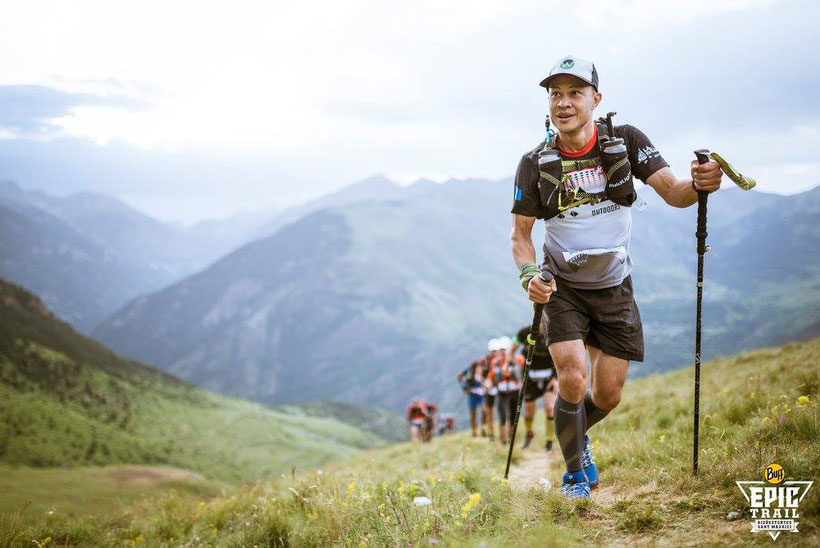 BUFF Mountain Festival - Epic Trail Una carrera en un lugar impresionante, con características de alta montaña y con un desnivel acumulado que prometía que seria de aquellos retos que nos encanta, al punto de dudar si podríamos completarla. Y así fue, por razones de seguridad, la organización decidió pararnos en el 67K a eso de las 17h.
Luego de dejar unos días para analizar todo lo hecho, la preparación, las emociones, el feeling durante la carrera, y todo... el balance es totalmente bueno! Siempre se queda uno con la sensación de que se pudo haber continuado, pero al haber visto la tormenta a las 3 am de esa noche ya abajo: truenos a cada 10 segundos, vientos fuertísimos, y lluvia torrencial, lo entendí mejor... uno debe de confiar en la organización, en su conocimiento del área y sobretodo, en su criterio de poner a 50 - 100 personas en lugares que tomaría horas accesar con buen tiempo, para poder rescatar a 1 corredor herido o perdido...
Tuve la oportunidad de conocer nuevos amigos, sentir la montaña, escuchar las ráfagas de viento a través de la vegetación, y sobre todo, reencontrarme conmigo mismo. Cruzar esas montañas, viendo las gotas de lluvia acumuladas cayendo de tus pestañas, una detrás de la otra, el frío que penetraba la piel, la respiración y las palpitaciones del corazón tan fuertes que crees que vienen de afuera... luego, concentrarse y nivelar, buscar y finalmente encontrar el centro, correr por que lo sientes, por que te encanta, porque puedes... y por eso, queríamos que durara hasta que terminara... así que será en una próxima, la montaña seguirá allí... a cada vez, mostrando y compartiendo de a poco, sus tantos encantos y secretos.
(EN) BUFF Mountain Festival - Epic Trail An spectacular race in a dream place, with high altitude features and a positive gain offering a kind of a challenge always had attracted me: not knowing if I will make it. And so was it, this time, the organization made a hard decision, to cancel the race after only 11 hours after started at 67K check point, just before the hardest part and the night.
After letting a few days for analysis, all we´ve done, the training, the strategy, the feelings and all, the outcome is just perfect! It will always remain that little tiny thing that we could do more and finish it, if only... but when we were at the finish line, back down in Barruera with a storm hitting us hard, with every 10 sec lightnings, strong wings blowing our tents and heavy rain for more than an hour, I realize there we were no option to continue this race in a safe way. Racers should always trust the race organization, their knowledge of the environment and their criteria to put some 50 - 100 people in a place that could take hours to access to rescue 1 injured or lost runner.
This time I had the opportunity to meet new friends, feel the mountain, listen the gust of the wind through the vegetation, but finally, find me with myself again. Crossing these mountains, watching rain drops falling from your eyelashes, one after another, the cold thru your skin, the breathing and heart beats so strong that could think are from outside your body... and then, focus find your center, deep inside your mind and body: to run because you feel it, you love it, because you can! and therefor I´d love to last longer until we could reach the finish line... anyway I know there will be "a next time", the mountain it will be there, every time, showing and sharing little by little, its charms and secrets.
Por Charlie
#somosRocalla #WorldTrailRunners #correyviaja